Scheduled Electric Outages | Water Outages | Country Club | Pine Ave. & 11th St.
College Ave. Electric Lines | Park Township Water Meters | Lakewood Blvd. | Water Main Flushing
Electric Outages
| | | | | |
| --- | --- | --- | --- | --- |
| Date | Type | Location | Status | More Information |
| 9/21/2022 - 8:30AM - 11:30AM | Electric | Hastings Avenue, Wilshire Ct | Planned | Electric Maintenance & Upgrades |
| | | | | |
| 9/26/2022 - 8:30AM - 4:30PM | Electric | Pioneer Village | Planned | Electric Maintenance & Upgrades |
---
Water Outages
| | | | | |
| --- | --- | --- | --- | --- |
| Date | Type | Location | Status | More Information |
| | | | | |
---
Lakewood Transmission Main
Project Lead: Prein & Newhof
When: March - November
What: Holland Board of Public Works (BPW), Holland Charter Township (Holland Township), and the Ottawa County Road Commission (Road Commission) will be completing improvements along Lakewood Boulevard, between Lakeshore Avenue and North River Avenue, during the 2022 construction season.
Holland BPW will be installing a new 36-inch water transmission main on Lakewood Boulevard and North River Avenue.
We are building a new water transmission main down Lakewood Boulevard and River Avenue to create a new water piping loop from 160th Avenue to Howard Avenue. These necessary upgrades will improve redundancy and resiliency in the water supply system, ensuring Holland BPW's ability to provide Holland and the surrounding communities with a consistent flow of drinking water.
The next phase of construction is focused on installing piping within River Avenue between Lakewood Boulevard and Howard Avenue. This process will be extremely complicated and very beneficial for the community's water system. This work will take about three months to complete and includes:
Saturday, September 10th - The River Ave. and Lakewood Blvd. intersection partially reopened. One northbound and one southbound lane are available.
Late September through November: Maintaining one lane of motor traffic flow in each direction on N. River Avenue.
Locating and avoiding major underground utilities.
Dewatering parts of the construction route.
Installing 36" water transmission main piping beneath both the railroad crossing and Douglas Avenue.
We recognize that this work will be particularly disruptive. We thank you for your continued patience as all parties involved work together to provide important long-term infrastructure solutions for the region.
Photo from Prein and Newhoff. This shows the beginning of the work taking place at the River Ave. and Lakewood Blvd. intersection. The picture shows dewatering wells and pavement being removed to prepare for the installation of the water transmission main.
This project was awarded a Green Bond.
The green bond shows how Holland BPW affects the long-term sustainability of a community through our credit profile. S&P Global assigned its 'AA' long-term rating to the revenue bonds, citing affordable rates, strong all-in debt service coverage, and robust liquidity
Green Bond Principles
Climate Change Adaptation
Sustainable Water Management
Project Expenditure
(updated Aug. 8, 2022)
Original Contract Value: $13,533,619.00
Current Contract Value, with Change Orders: $13,727,970.98
Expended to Date: $8,644,440.36
---
Water Utility Reconstruction - Pine Ave., 11th St.
Project Lead: Holland BPW
When: May- November
Work will start after Tulip Time, targeting May 16, 2022.
What: Full water utility reconstruction. The water main, sanitary force main, and storm sewer will be replaced. Galvanized services will also be replaced.
Where: Pine Ave. from 9th St. to Michigan Ave. Plus, 11th St. from River Ave. to the dead end. (22nd Street has been removed from planned work.)
Contractor: Millbocker
Contact
Gordy Atwood, Millbocker Foreman, (269) 377-7080
Nate Weinberg, Wightman Onsite Inspector, (269) 924-2556
8/31/2022 Update - Pipework in Pine is complete from 9th St. to 13th St. 11th St. is in the process of being paved. The additional road was milled on Pine to 17th St. to prepare for water main installation. The new transmission main will be installed from 13th St. to 16th St. in the coming weeks.
8/15/2022 Update – Storm and Sanitary are complete to 14th St. Intersection. New Transmission Water Main install to begin. Project to progress past 14th St after Labor Day.
---
Water Utility Reconstruction -
Country Club Rd., Legion Park, Birchwood Ave., Legion Ct.
Project Lead: Holland BPW
When: April - November
What: Full water utility reconstruction. The water main, sanitary force main, and storm sewer will be replaced. Galvanized services will also be replaced.
Where: Country Club Rd. from 8th St. to Legion Park Dr., Legion Park Dr. from Country Club to Birchwood Ave., and Legion Ct.
Timeline
Water main - 5/9 - 5/16
Water services will follow water main construction
Work in Legion Park and Birchwood will follow the completion of Country Club. That is projected to begin in early July.
Contractor: Milbocker
Contact: Ryan Demann, Millbocker Foreman, (269) 377-1722
What should residents in this area do?
Label trash cans with house numbers.
Plan alternate routes as needed to avoid crossing construction trenches.
Flag irrigation systems to limit damage from construction.
8/31/2022 Update - Country Club has been restored and is open. Legion Park is closed in preparation of the installation of the water main. The new water main for Legion Park will be installed in the coming weeks.
8/16/2022 Update - Country Club will be striped on 8/17. Final restoration will continue this week and into next. Legion park will be closed when Birchwood and Legion Ct. are ready for paving in the coming weeks.
5/25/2022 Update - Water main tie-ins scheduled for 5/26, weather dependent. Water main placement will continue up to Birdie Lane following Memorial Day.
3/29/2022 Update - Milbocker, the general contractor for the Country Club Project, has a planned start date of Monday, April 4, 2022. Work will start with milling and removal of the pavement in the project limits. Construction in Country Club is expected to last until July. Progress will depend on the availability of materials and weather. Work may proceed to Birchwood when Country Club is finished and then to Legion Park, but is highly dependent on material availability and may happen sooner.
During the course of the work, it may be necessary to temporarily shut down the water mains on the side streets to connect them to the new main. BPW door hangers will be placed on front doors prior to any water shut-offs. Service connection work will be coordinated with the homeowners directly by Milbocker.
---
College Avenue Electric Lines
When: December 2020 – February 2022
Where: College Avenue from 13th Street to 24th Street
Project Summary
Holland BPW is burying the overhead electric lines on College Avenue from 13th Street to 24th Street.
Why
Removing the overhead electric lines will improve the visual aesthetics of the area and enhance the reliability of the electric system.
Access
The project will involve Holland BPW line crew, specified contractors and tree trimmers. At times, work will take place in and around customer property within the designated area.
Scheduled Outages
This project will involve scheduled power outages to complete portions of the work. Customers will be notified about scheduled outages by mail.
Project Engineer: Carl Thorwal, 616-355-1599
Contractors: Precision Trenching and Integrity Tree Service
---
Water Main Flushing
When: April 2022 – August 2022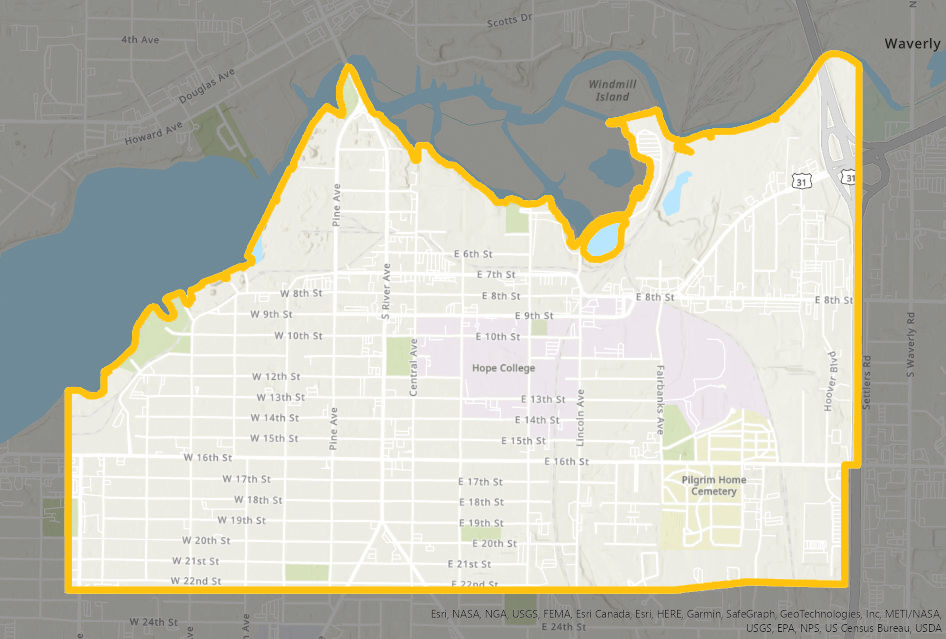 Where: From US-31 east to Ottawa Ave and from 22nd St North to Lake Mac / Macatawa River.
What's the HBPW Flushing Program?
To improve water quality and minimize discoloration, Holland Board of Public Works water mains are comprehensively flushed by a technique known as unidirectional flushing. This procedure is performed in warm-weather months and involves the systematic opening and closing of hydrants, one section of main at a time, to force the water through the pipes at high velocity, removing accumulated mineral sediment until the water is clear.
Refer to the map above to determine if you are in the area being flushed this year. Customers located in the flushing area are sent a post card.
How Unidirectional Flushing Could Affect You
1. You may experience periods of low pressure.
Typically, the operation itself can take from a few minutes to over an hour, but the average is 30 minutes. If you experience a complete loss of pressure or the temporary low pressure causes a problem, please contact HBPW at 616.355.1500.
2. Flushing may lead to discolored water.
This is okay! Flushing operations may also lead to discolored water, which can be drawn into homes and businesses if the water is being used during or immediately following the flushing. Such events should affect customers for a few hours at most. The discoloration is caused by iron (red color) or manganese (black color) particles being dislodged from the water main which can stain porcelain and laundry. If dis- coloration occurs, open the cold tap nearest the water meter—usually a basement sink – to full flow until the water runs clear. In some situations this make take 5 to 10 minutes. It is also advised that you make sure your water is clear before doing laundry or other projects for which discolored water could cause problems.
3. Schedule of Flushing
A precise schedule of flushing operations is difficult to determine more than a week in advance. We have a map available at hollandbpw.com with the area that will be flushed. We appreciate your patience and understanding during this water main cleaning process.
---
Maintaining the Holland BPW utility system is essential to the reliability of our services. Oftentimes crews are working in roads, which can be dangerous. We ask our community to help keep our team safe. When you see crews working, please take care to respect their work zones.