Understanding My Utility Bill 
Definitions of the terms used on your Holland BPW bill.
1. Due Date - The date your bill must be paid before any penalties are added.
2. Messages - This area includes information of Holland BPW services and activities the HBPW participates in.
3. Account Details - This area includes information specific to your individual account.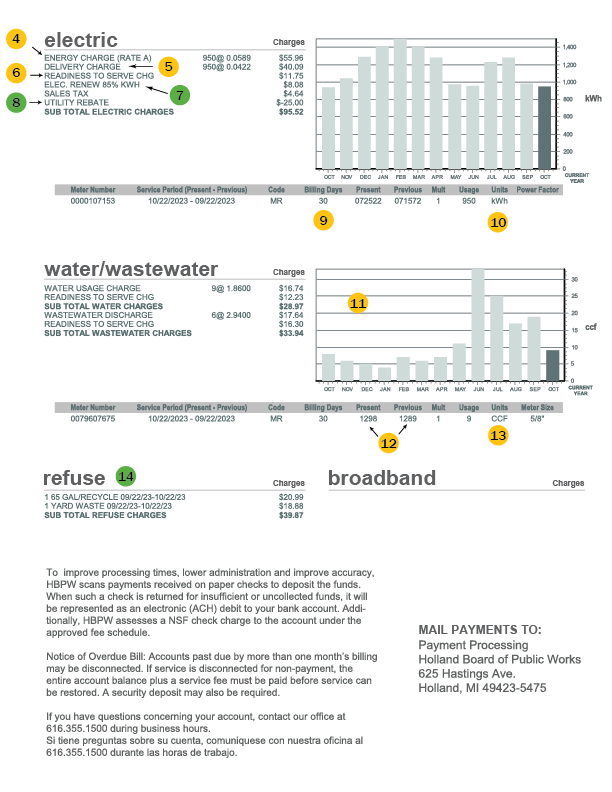 Image Key
Yellow Circle = Standard component on each bill.

Green Circle = Charge or credit may not appear. Optional program or service provided to City of Holland residents only.
4. Energy Charge - The electric current that is generated, produced and provided to you. (Residential Rate A)
5. Delivery Charge - The cost of transmission and distribution which moves electricity from the power plant to local substations, and to your point of service. Electricity leaves the transmission lines at the substation where transformers reduce the voltage. Electricity then travels through distributions lines on poles or underground to neighborhoods. Finally, electricity passes through a meter to measure use in kilowatt-hour units that appear on your electric bill.
6. Readiness to Serve Charge - A monthly fixed charge that covers the expenses to maintain and service a customer's account. This includes billing, metering and customer service. The Readiness to Serve charge also funds a portion of the capital investments in equipment, structures and meters as well as engineering and construction services.

7. Electric Renewable Energy Rate - An optional charge that allows you to pay for an additional 85% or 35%, so that either 100% or 50% of your electric use is generated by renewable resources.
8. Utility Rebate - Rebates of $100 or less are added as a credit to your bill.
9. Billing Days - The period of time for which your usage is being billed.
10. kWh - Stands for kilowatt-hour. One kWh is a measure of production. For example, a 1,000 watt window unit air conditioner turned on for 1 hour will use 1 kWh (1,000 watts x 1 hour).
11. Usage History Graphs - Display of your previous usage electric and water/wastewater for the past 13 months.
12. Meter Readings - Shows what the meter reading was for the Service Period for the present and previous dates.
13. CCF - Hundred Cubic Feet. The unit of measure for billing water and wastewater. One Hundred Cubic Feet equals 748 Gallons.

14. Refuse - City of Holland residents only. Refuse and recycling are required. Yard waste is an optional charge billed April 1 - November 30.
MyHBPW Account Portal FAQs
MyHBPW is a secure customer account access portal that provides a simple way to manage your Holland Board of Public Works accounts.
How do I register for MyHBPW?
I already pay my HBPW bill online. Why should I register for MyHBPW?
How do I sign up for notifications from Holland BPW?
How do I sign up for paperless billing or make changes to my billing preferences from Holland BPW?
How do I reset my password for MyHBPW?
Do I need to be logged in and registered with MyHBPW to pay my bill online?