Backflow Test Contractors must submit test results on the FORMLINK SYSTEMS website at the button below.
If you need a Log In for FormLink, please email: crossconnection@hollandbpw.com
Mailed / Emailed / Faxed results will not be processed.
Understanding Cross Connections
If non-potable water were to come in contact with the public water supply, the drinking water system could become contaminated. A cross connection is an arrangement of piping that could allow undesirable water, sewage, or chemical solutions to enter the drinking (potable) water system as a result of backflow. Backflow is the reversal of normal flow in a system due to back siphonage or back pressure.
Examples of Cross Connections*
A faucet connected to a hose lying in a bucket of dirty water

A water pipe connected to a broiler treated with chemicals

A hose connection to a chemical solution aspirator to feed lawn/shrub herbicides, pesticides, and fertilizers.

Lawn irrigation systems

Chemically treated heating systems

Water softeners

Hose connections to a water outlet or laundry tub

Swimming pools

Solar heating systems

Private non-potable water supplies

Non-code, siphon-able, ball cock assemblies in toilets

Water-operated sump drain devices.
*This is an abbreviated list of potential cross connection hazards.
What is Back Pressure?
Whenever the drinking water supply system is directly connected to another piping system or process that operates at a higher system pressure, back pressure can occur. A privately owned pump being used to increase pressure inside a single structure might cause back pressure if the water pressure on the private side is higher than the city's water system.
What is Back Siphonage?
Back siphonage can occur when the pressure in the public distribution system drops. Normally, the pressure in the water system is high enough to prevent backflow. Certain events such as main breaks, flushing or firefighting can lower the pressure enough to allow water to flow backwards.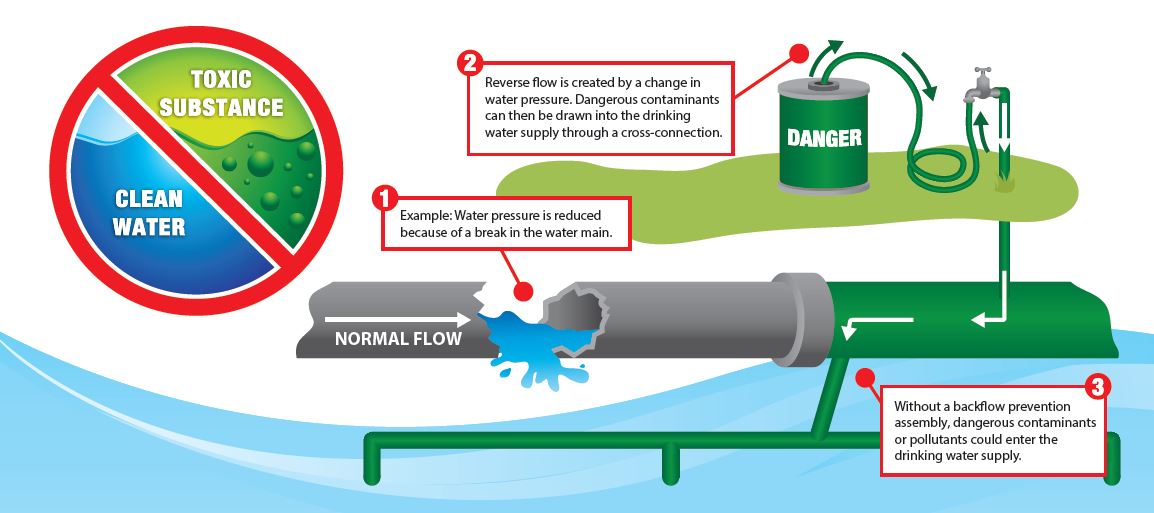 Example: Water pressure is reduced because of a break in the water main.

Reverse flow is created by a change in water pressure. Dangerous contaminants can then be drawn into the drinking water supply through a cross-connection.

Without a backflow prevention assembly, dangerous contaminants or pollutants could enter the drinking water supply. Backflow prevention keeps toxic substances away from clean water.
What to Do if You Have Cross Connections
All users of the public water system must share the responsibility to protect potable water piping systems from contamination through cross connections. This includes owners and managers of residential, commercial, industrial and public buildings.
All who are supplied by private water well sources must assume total control of their water system and safeguard it from contamination.
In many instances involving residential cross connections, the installation of a hose bib (faucet) vacuum breaker can prevent back siphonage of contaminants and provide adequate protection of the homeowner's water system, and consequently, the public water system. This means equipping each outside hose connection and hose connections in the basement and laundry room with a simple and inexpensive vacuum breaker. These devices can be obtained from hardware stores or plumbing shops.
In other instances, more elaborate protective devices may be necessary. For those situations, assistance in determining what device is appropriate may be needed.
Questions? Contact a licensed plumber or HBPW Water Department: 616.355.1500, crossconnection@hollandbpw.com
Holland BPW's Cross Connection Control Program
Holland Board of Public Works is required by Michigan Department of Environment, Great Lakes, and Energy (EGLE) to ensure all irrigation systems using HBPW water do not contaminate the potable water system. HBPW's Cross Connection Control Program operates in accordance with the Safe Water Drinking Act.
HBPW's Cross Connection Program is designed to educate about cross connections and to help customers make necessary changes for preventing backflow. HBPW does outdoor inspections of properties in the City of Holland and portions of Park, Holland and Laketown Townships, to identify potential cross connection hazards and to check that water meter modules are functioning properly. Customers are notified in advance when HBPW technicians will be in their neighborhoods.
If the Service Technician finds unprotected outdoor spigots, vacuum breakers will be provided for each unprotected spigot. The customer is responsible for installing the vacuum breakers.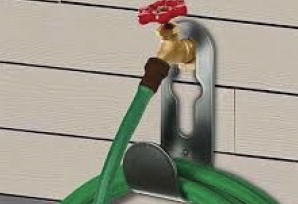 Some outdoor spigots have an atmospheric vacuum breaker built in, some must be added.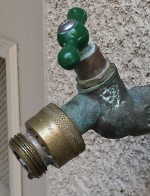 This spigot has an added green vacuum breaker.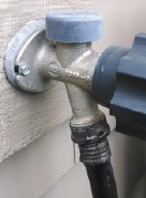 This spigot has a built-in vacuum breaker.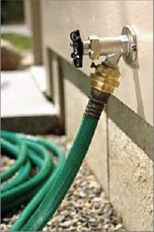 Hose ribb vacuum breakers can also be attached just below the spigot as seen here.
If a lawn irrigation system exists, a testable pressure vacuum breaker (PVB) must be installed. If no PVB is present, the customer will be required to add one.
Residential PVB devices are required to be tested by a Certified Backflow Device Tester within 1 year of initial installation and every 3 years thereafter.

Commercial & Industrial PVB devices are required to be tested by a Certified Backflow Device Tester every year.
After the test is completed, the certified contractor submits test results to FORMLINK.
View HBPW's Cross Connection Policy in the Water Terms of Service Rate Book.
Holland Board of Public Works reserves the right to shut off water service in response to non-compliance.
*Part 14 of the Michigan Safe Water Drinking Act, 1976 PA 399, as amended and the Water Supply Cross Connection Rules of the Michigan Environmental Quality, R 325.11401 to R 325.1140 of the Michigan Administrative Code, contain the rules that public water systems must follow regarding cross connection control. Section 37-28 of the City of Holland Code of Ordinances charges Holland BPW with determining the presence of cross-connections in the municipal water system.